Shoc DK 20 + 1 years
Shoc treff i Europa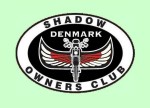 Date:
2022-07-07
00:00
-
2022-07-10
00:00
Dear Shadow Friends!
We try again! We have a time and a place:
ShocDK 20th anniversary 7th – 10th of July 2022. A year late, but better late than never!
MC-Camp Sydhavsøerne Lolland, Byskovvej 4, 4891 Guldborgsund, Denmark.
In 2021 Shadow Owners Club Denmark has existed 20 years! We would like to welcome as many of our Shadow Friends as possible to come and celebrate with us!
Of cause all depends on the development and rules surrounding Covid 19, but the outlook is good!
Best Shadow greetings from ShocDK
Henrik
Denne e-postadressen er beskyttet mot programmer som samler e-postadresser. Du må aktivere javaskript for å kunne se den.
All Dates
From

2022-07-07

00:00

to

2022-07-10

00:00